We're making bus journeys brighter
We're determined to give more Londoners access to greener journeys. That's why we're constantly improving our bus network.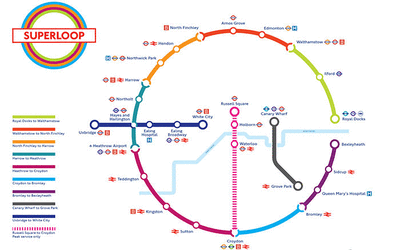 Superloop
We're now developing proposals for the Superloop - a network of express bus routes, circling the entire capital, which would connect key outer London town centres, stations and transport hubs. This will offer even more alternatives to private cars and maximise the benefits of expanding the ULEZ.
The Mayor is providing £6m funding as an initial catalyst for improvements to outer London orbital bus services.
Read more about Superloop.
Cleaner, greener buses
TfL buses now meet ULEZ emissions standards across the entire city
Our fleet of around 9000 buses operating across London now meet or exceed Euro VI emission standards, the same emissions standard as the Ultra Low Emission Zone. Euro VI is the latest emission standard for vehicles, reducing emissions of nitrogen oxide by up to 90%.
The fleet is made up of low- and zero-emission (at the tailpipe) buses, including electric, hydrogen, diesel and hybrid buses, all of which all meet Euro VI emission standards.
Zero-emission buses
More than 1000 zero-emission buses operate in our fleet - both single and double deck vehicles, built by various manufacturers in the UK and globally. Electric buses form a large part of our zero-emission (at the tailpipe) fleet and operate across multiple routes in London.
These buses contribute to improving air quality and are also much quieter, with lower vibration levels for a more comfortable experience.
Sutton buses
We've been working with the London Borough of Sutton and Go Ahead to introduce 81 zero-emission (at the tailpipe) buses across routes 93, 154, 164, 213 and some buses on route 80. Along with buses already on route 413, this will make 90 zero-emission buses in the borough.
85% of Sutton residents live within 400 metres of a bus stop.
The new electric buses are equipped with new features to make journeys more comfortable and convenient for our customers:
New LED screens on the lower and upper decks with live travel information
USB phone charging ports to keep you connected on your journey
Panoramic roofing on the upper deck of double deck buses for a lighter and brighter experience
Larger wheelchair and buggy areas with up to 3 spaces
Clearly marked priority seats for anyone who needs them
New, high back seats for a more comfortable journey
Hydrogen buses
We have 20 hydrogen fuel cell double decker buses in the fleet, helping to reduce TfL's carbon footprint, and tackle climate change. The hydrogen buses will help clean up the air and improve the health of Londoners.
Hydrogen used in a fuel cell for the bus is free from harmful emissions. The only by-product from the fuel cell is water from the chemical reaction of hydrogen with oxygen from the air, a process that produces electricity to power the bus.
These new buses will help us learn about this new technology and explore alternative zero-emission options for the network.
Route 63
Buses introduced on the north-south route 63 have innovative features and cutting-edge design aimed at making them an even more attractive, green alternative to the car.
The new route 63 buses feature:
USB chargers and mobile phone holders in the seats
A more open feel, with a skylight on the upper deck, larger rear window, and handles on the backs of seats rather than vertical poles for an unobstructed view
High back seats to make journeys more comfortable and a wood-effect floor
New covers for the priority seats, with a contrasting colour scheme to help differentiate them from other seats for passengers who are less able to stand
A larger wheelchair and buggy area
Upgraded CCTV cameras to provide higher-definition footage
New digital signs on board the buses share a wider range of live information, including the time to the next stop, disruptions and service updates for Tube and Overground services
Improving information at bus stops
The route already has next bus information at most bus shelters - new live information screens are now being trialled at many bus stops. This follows upgrades to many of the shelters along the route in 2021.
New Kent Road bus lane
Adding to the appeal of the state-of-the-art vehicles, a bus lane added to New Kent Road is already making journeys faster and more reliable. The route is already high frequency, with a bus every 5-8 minutes in the morning peak.
Jobs and skills
These buses were built by ADL, the country's largest bus and coach manufacturer, in Scarborough. ADL employs 2,000 people in skilled jobs and also supports a successful apprenticeship scheme. Other London buses are produced around the UK in places such as Ballymena and Falkirk, showing that investment in the Capital's transport network helps level up the whole country.
Improving bus routes
We're making a number of changes along our bus routes to improve the experience for customers. These include:
More convenient routes to key amenities such as shopping centres and hospitals
Quicker journeys on selected routes by giving buses priority on the roads, meaning buses get ahead of traffic
Increased space on buses by introducing double-deck buses on certain routes
Extra buses during busy times such as morning and evening peak, school runs and Saturday and Sunday shopping times
We consult customers on changes to bus routes. See our consultations website, Have Your Say.
Bus action plan
To support the Mayor's Transport Strategy, we published our long term Bus action plan in March 2022. The aim is to attract more customers to the bus network and help the capital become net zero by 2030.
Buses are already the most used form of public transport in the Capital - our plan will create an even more attractive alternative to car use by focusing on five areas:
An inclusive customer experience: a modern, relevant bus network that allows for spontaneous, independent travel, including improved customer information and bus station refurbishment, with actions including upgrading more existing bus stops to meet the wheelchair accessible standard
Safety and security: a safe, secure bus network, with no one killed on or by a bus by 2030, and with all elements of the Bus Safety Standard implemented by 2024. Also ensuring all customers and staff feel confident on the bus network travelling day and night, including through improved bus driver training
Faster journeys: a faster and more efficient bus network, with journeys 10% quicker than in 2015, with initiatives including the aim to introduce 25km of new bus lanes by 2025
Improved connections: a bus network better suited to longer trips with better interchanges, especially in outer London, and ensuring London residents remain close to a bus stop
Decarbonisation and climate resilience: a zero-emission bus fleet to tackle climate change and improve air quality, working with operators, boroughs and suppliers to reduce the cost and difficulty of infrastructure upgrades needed to enable the transition of the bus fleet. Plus safeguarding the network from extreme weather conditions
Bus priority programme
We're investing in enhancements across London's bus network to keep it efficient and reliable. By reducing journey times on key strategic routes we're making sure we provide the best quality of service to our customers.
We aim to:
Add more continuous bus lanes - these cross junctions with bus lanes on either side and enforced yellow box junctions
Improve existing bus lanes to make sure they are wide enough for bus passengers and cyclists
Increase operational hours of bus lanes to cover peak periods, making them 24/7 where possible. This is supported by increased enforcement, reviewing kerbside activity and further encouraging bus drivers to report infringements
Upgrade traffic signals to prioritise buses, including bus-only movements
---