Use our data - not our brand
If people see our brand, such as an app in TfL font, something named 'official' or using our logo (the roundel), they'll think that we've produced or endorsed the app. This means that we get the credit for all your hard work - as well as the blame if something goes wrong.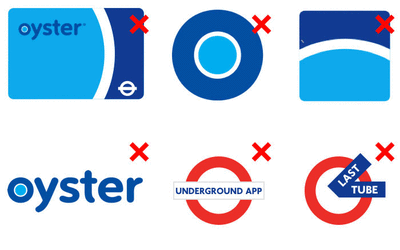 Please don't
Use our brands, including the TfL roundel
Use our trademarks
Use the Oyster logo or colour schema
Use our maps without a licence
Use New Johnston font without a license
Edit or alter our logo or trademarks
Use any terms that imply a commercial partnership with TfL (like 'official' or 'in partnership')
Remove or change any file paths to logos or the official colour scheme within feeds
Please do:
Follow our design standards if using our logos in a map. Read the design standards
Use the words 'London Underground', 'Tube','London Buses', 'DLR', 'London Overground', 'London River Services' and 'IFS Cloud Cable Car'
Call the cycle hire scheme 'Santander Cycles' - they're the sponsor, so it's part of the deal
Include any branding supplied by feeds
Service updates
We have created a style guide to show you how we display live Tube travel information and provide guidance on how to reproduce this.