The Piccadilly line accounts for more than 10% of all journeys on the Tube, with around 200 million trips annually (before the pandemic) between destinations across north and west London, Heathrow Airport, the West End and King's Cross/St Pancras International.
As well as adding new trains, we'll also be upgrading ageing assets on the line. The work will be done in stages across the line to help make sure it has a minimum impact on our customers.
What changes you will see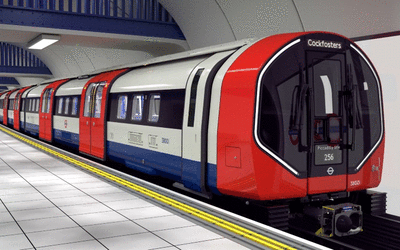 New trains
We're working with Siemens Mobility Ltd on a new fleet of state-of-the-art trains that will improve the experience of millions of customers. From 2025 these will replace the line's existing trains which have been serving London since 1975.
The new trains will feature:
Walk-through carriages
Air-conditioning - for the first time on a deep Tube train
Wider all-double doorways to help customers get on and off more easily
Enhanced digital display screens for customer information
Improved step-free access from/onto the platform
On-train CCTV cameras for additional customer security
Once the 94 new trains have replaced the 86 existing trains, we will be able increase the number of trains through central London from 24 to 27 trains an hour - every 135 seconds - at the busiest times. This will make the service faster, more reliable and more frequent. The number of passengers that can be carried on the entire Piccadilly line will increase by up to 23% during peak times.
The new trains are also being designed with sustainability in mind, reducing energy consumption by 20% and supporting decarbonisation.
New depots and sidings
The new trains will be rigorously tested before they carry our customers. They'll also need facilities ready to keep them well-maintained and in good condition - that's why we're improving our train maintenance depots. This way we can always ensure that the trains work reliably, efficiently and provide the maximum comfort.
At Cockfosters and Northfields depots we're building new facilities to maintain the trains with extra stabling track and cleaning facilities. At South Harrow we've also installed extra stabling track so that trains can be quickly brought into use when services start to run more frequently.
The upgraded depots will feature 'green' roof designs for rainwater harvesting, and storage to provide 'grey' water for depot services and train washing. Large roof-mounted solar panel arrays will provide low voltage power supplies for heating and lighting in the depot complex.
Power upgrade
The power system on the Piccadilly line will be upgraded. This will ensure that the new trains run as reliably and efficiently as possible when we start running more trains at the busiest times.
Accessibility
We're improving accessibility across the line by:
Installing platform humps or manual boarding ramps
Adjusting platform edges and track positions
These changes will reduce platform-to-train stepping distances and heights, making it easier for customers to get on and off the trains.
All station platforms will be reviewed and - where possible - the works will be done before the full new train fleet is in service.
Related works
Work to bring the new trains into service will also include:
Upgraded tracks and trackside equipment to improve the ride quality for a smoother and faster journey
New CCTV cameras installed at high level above the station platforms so the train driver can see down the length of the platform more clearly and have enough time to alert passengers before closing the train doors
Modifications to signalling to accommodate the new, longer trains - this is to ensure reliability, safety and the ability to keep the service running at all times
Investment in a range of innovative ways to solve issues faced across the network. This includes a new platform cooling system - done in partnership with the Department for Transport - and platform humps that are lightweight, modular and improve our ability to support disabled customers on the line
Other benefits
This work will also help to support:
Over 25,000 jobs across the Capital to help complete what is currently our largest programme
Siemens' new £200m rail facility at Goole, in the East Riding of Yorkshire, where many of the new trains will be built. Nearly 1000 skilled job opportunities in engineering, manufacturing and construction have been created at the facility which also includes the new 'RaisE' Innovation Campus supporting 80 graduates and apprentices
Future works
Fully upgrading the line-wide signalling to enable automatic train operation with additional trains would allow for a peak service of up to 36 trains an hour in the central area during peak hours, for a 64% increase in capacity compared to current levels.
How much we can do will depend on the funding available.
Contact us
Get in touch If you have any questions about the works.
TfL Customer Services
4th Floor
14 Pier Walk
London SE10 0ES