Work around Kew Bridge finished in April 2021. This has created a connection to the temporary C9 scheme on Wellesley Road through to Chiswick High Road which we built to create walking and cycling space during the pandemic.
Changes to the temporary C9 scheme
We have reviewed the temporary C9 scheme along with the London Borough of Hounslow. We've looked closely at the traffic data and listened to the issues raised by residents and businesses. As a result, we are making some changes to the scheme on Chiswick High Road.
We're making these changes from through a new Experimental Traffic Order which Hounslow Council's Cabinet agreed to in July 2021.
Details of the changes we're making are on our Cycleway 9 - Chiswick High Road consultation page.
Building the changes in Chiswick
During construction there will be some significant disturbance, including bus and traffic delays due to lane reductions, and some pavement closures and diversions.
If possible, you should:
Walk, cycle or travel by Tube, Overground or National Rail services
Allow more time to complete your journey if driving
Travel outside the morning and evening peak times
We'll do everything we can to minimise the impact of the work and to manage the flow of traffic through Chiswick during construction.
Hammersmith gyratory works
We plan to start building the Hammersmith gyratory section of Cycleway 9 from 6 December 2021 through an Experimental Traffic Order. Enabling works started from 29 November 2021.
From that date the gyratory will operate with lane closures. If driving, expect delays. We will keep traffic moving by actively managing traffic light timings.
If possible, you should cycle or travel by Tube, Overground or National Rail services, and outside of peak times.
We and the London Borough of Hammersmith & Fulham (LBHF) will closely monitor the effects of the scheme - we hope it could become a permanent addition to London's walking and cycling network.
Once building works are complete, LBHF will launch a public consultation. They will let residents know when the consultation has opened and how people can respond to it.
Why we're building Cycleway 9
The new cycle route will be clearer and safer for cyclists in west London, largely separating them from other vehicles.
The route, between Kensington Olympia and Brentford, connects town centres in west London through Hammersmith and Chiswick. It will link important amenities and facilities and make the areas more pleasant to live, work and spend time in.
The changes will also make it easier for pedestrians to cross busy roads and remove through traffic on some residential roads.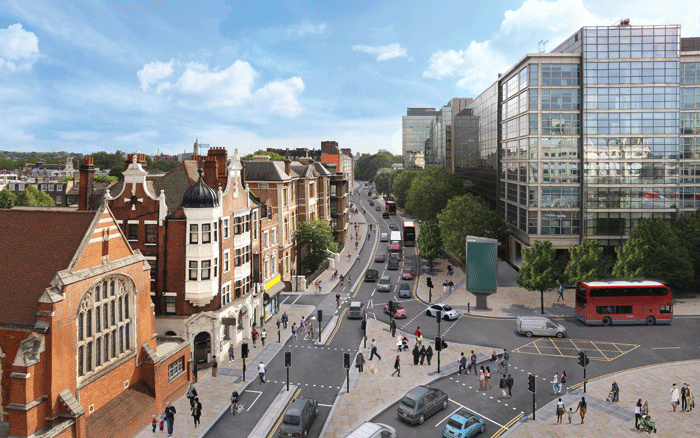 Cycle network
Cycle routes like Cycleway 9 help to support the Mayor's Transport Strategy and Healthy Streets Approach by encouraging walking, cycling and using public transport.
Cycleway 9 will provide a continuous, largely segregated route between Kensington Olympia and Brentford town centre, via Hammersmith and Chiswick.
Change of name
We changed the name of this route from Cycle Superhighway 9 to Cycleway 9. Cycle Superhighways and Quietways are being combined into one cycle network called 'Cycleways'.
Previous consultations
We consulted on our full plans in autumn 2017.
We also consulted on two parts of the route in early 2019:
Kew Bridge and Kew Bridge Road to Wellesley Road
Duke Road and Duke's Avenue's junction with Chiswick High Road
To request the consultation materials and report of either consultation, email: Haveyoursay@tfl.gov.uk
Extension to Hounslow town centre
We are working closely with the London Borough of Hounslow to develop proposals to extend Cycleway 9 farther west through Brentford and towards Hounslow.
A public consultation on these proposals will be launched early in 2022.