Work around Kew Bridge finished in April 2021. This has created a connection to the temporary C9 scheme on Wellesley Road through to Chiswick High Road we built to create walking and cycling space during the pandemic.
The temporary C9 scheme
We have been reviewing the temporary C9 scheme alongside the London Borough of Hounslow. We have looked at the traffic data closely and listened to the issues raised by residents and businesses. As a result, we believe some changes to Chiswick High Road would be the best way forward.
We propose to make these changes in autumn 2021 through a new experimental traffic order. (Hounslow Council's Cabinet agreed to them in July 2021.) Check back here for more information on our construction plans nearer the time.
You can also keep up with the scheme on our Cycleway 9 - Chiswick High Road consultation page.
Why we're building Cycleway 9
The new cycle route will be clearer and safer for cyclists in west London, largely separating them from other vehicles.
The route, between Kensington Olympia and Brentford, connects town centres in west London through Hammersmith and Chiswick. It will link important amenities and facilities and make the areas more pleasant to live, work and spend time in.
The changes will also make it easier for pedestrians to cross busy roads and remove through traffic on some residential roads.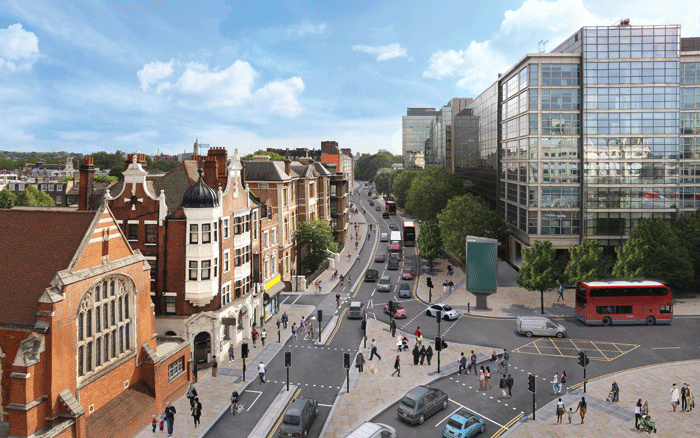 Cycle network
Cycle routes like Cycleway 9 help to support the Mayor's Transport Strategy and Healthy Streets Approach by encouraging walking, cycling and using public transport.
The proposed changes between Kensington Olympia and Brentford town centre include:
A two-way segregated cycle track on Hammersmith Road, King Street and Chiswick High Road
Five new signal-controlled pedestrian crossings and more than 20 upgraded pedestrian crossings
Reducing through traffic and rat-running in residential roads by restricting access to the South Circular from Wellesley Road and Stile Hall Gardens for motor vehicles, making these streets more appealing places to walk and cycle
Stepped cycle tracks (at a lower height than the footway) in each direction on Brentford High Street; eastbound stepped track on Kew Bridge Road, westbound cycle path through Waterman's Park
Changes to bus stop locations and layouts, including new bus stop bypasses for cyclists
Changes to parking and loading bays and hours of operation
This section of Cycleway 9 would provide a continuous, largely-segregated route between Kensington Olympia and Brentford town centre, via Hammersmith and Chiswick.
Change of name
We have changed the name of this route from Cycle Superhighway 9 to Cycleway 9. Cycle Superhighways and Quietways are being combined into one cycle network called 'Cycleways'.
Previous consultations
We consulted on our full plans in autumn 2017.
We also consulted on two parts of the route in early 2019:
Kew Bridge and Kew Bridge Road to Wellesley Road
Duke Road and Duke's Avenue's junction with Chiswick High Road
To request the consultation materials and report of either consultation, email: Haveyoursay@tfl.gov.uk
Extension to Hounslow
We are working closely with the London Borough of Hounslow to develop proposals to extend Cycleway 9 further west through Brentford and towards Hounslow.