Travelling safely
If you need to cross tram lines
Whether you are in the town centre or at an out-of-town crossing:
Always stop before crossing tramlines - pause before you cross. Trams can be travelling over 40mph at certain points along the tramway and require a longer stopping distance than other vehicles like buses or cars
Look both ways - and look up from distractions like mobile phones. Make sure you can clearly see no trams approaching either side of the track
Listen - trams are much quieter than other vehicles so you may not hear them until they are close. Remove headphones before crossing
Use the official pedestrian crossing points where available
Getting on the tram
Trams are an easy and comfortable way to travel. When using trams:
Keep hands and items clear of closing doors - our drivers will give you time to board safely. If you can see the doors are already closing, wait for the next tram
Take a seat, if seats are available - remember to look up and offer priority marked seats to those who may need a seat more than you
If standing, always hold the handrail - trams can accelerate and brake suddenly so hold the handrail for your safety
Wheelchair and mobility scooter users have priority in the wheelchair space - buggies or prams can use this space when it's free
All trams and tram stops are accessible. Be considerate to everyone when getting on and using the tram. Remember, not all disabilities are visible.
Personal safety
Your personal safety and security are important to us. We have measures in place so you can use trams safety and with confidence.
CCTV and help points
CCTV is in operation at all tram stops and on board trams, and some staff are equipped with body worn cameras. Each stop has a help point where you can speak to a customer service assistant. Every tram is equipped with a help point on board to speak with the driver once the tram has stopped at the next stop.
Ventilation and face coverings
The frequent opening of doors ensures a flow of fresh air on our trams. Face coverings remain welcome on our network if they help you to travel with confidence.
Planning your trip
Our TfL Go app has interactive maps and more to help you plan public transport travel across London and on trams - you can also use our Journey planner.
Check for any disruptions to your journey on our status updates page.
Cash-free travel
All trams in London are cash free. This means you will need to have an Oyster card, contactless payment, or a valid ticket to travel on a tram.
You must touch in on the yellow card reader at the tram stop before boarding. If the reader doesn't recognise your payment, you should try again or use a different payment method. Use the help point if you need it. There is no need to touch out at the end of your journey.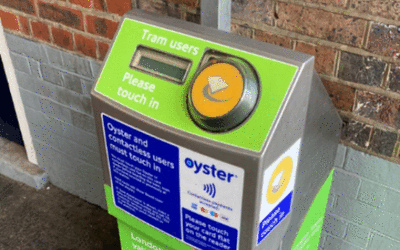 Boarding trams at Wimbledon
When boarding the tram at Wimbledon you must touch in on the tram-only readers on Platform 10, even if you have already touched in at the station gateline. There is no need to touch out, but you must touch in on the National Rail or London Underground reader if you are interchanging to avoid being over charged or a penalty fare.